Cartel Software Pvt. Ltd. since its establishment focused much on delivering better outcome in a more effective manner as per the requirements of the clients in various industries. We believe in Delivering Innovative Excellence.
---
Industries We Serve
Outsourcing – Unleash the potential
Brand Cartel is a pioneer in the field of major disciplines of software and services. We encourage our foreign clients regarding the offshore outsourcing of IT services and its benefits. Cartel Software has a vast pool of human resources which are readily available for our client for their outsourcing works either as a full-time or part-time resource. Out versatility is evident from the multi-disciplinary resources available with us. Apart from the global standards, we maintain a highly talented pool of business executives to meet the specific objectives of our clients.
Brand Cartel as your Offshore Partner provides you
• Enhanced scalability
• Less investment and Less operational costs
• Complete access to our business and technical expertise
• Strategic value to your business
• Feel free to focus on core business
• Improved flexibility in work
• Improved quality of services and support
Business Model
Billing Model

Project Specific

Phase-Wise

Allocated-Resource

Remote-Facility

Advantages

Flexibility in developing project specifications

Satisfaction of work completion

Avoid the overheads

Extend your reach

Change as you go

Highly flexible in terms of Payment vs Work Done

Pay only for the specific resources as per your requirements

Minimize the risks involved with new establishments
We provide highly customized and flexible business options for our client. Considering the versatility in the client's requirement, we provide the most suitable billing alternative from amongst the following options:
• Project Specific Billing
• Phase-Wise Billing
• Allocated-Resource based Billing
• Remote Facility based Billing
Working Modes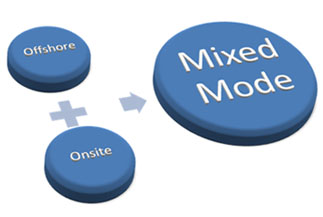 Our clients can select from either offshore or onsite services or a mixed mode which combines the practical approaches of these two working modes.