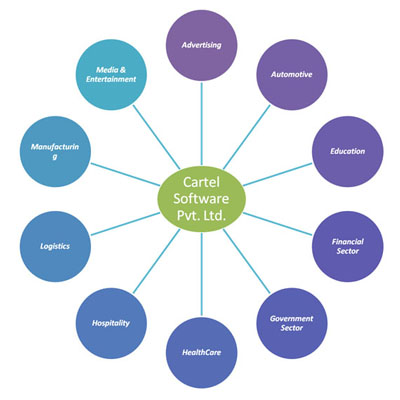 Cartel Software with its multi-domain expertise has incorporated software solutions throughout a variety of sectors. Along with the elite projects for the government and PSUs, we have extended our services to the various core industries as well.
Have a look at the brief snapshot of the Non-IT industries we are associated with:
---
Industries We Serve
Advertising
Brand Cartel can be a one-stop solution for all your advertising needs. With our proven strategies for the advertising, we can always ensure you an internationally wider coverage and much specific targeted audience. We make your online presence much more accessible and informative. Our approach helps our client in better branding and keeps their clients and visitors more engaged in their ads and the products.
With our backend support, you can easily track the advertising outputs and check the conversion ratios. This gives you a lot more flexibility in optimization and selection of the subsequent strategies.
Automotive
Brand Cartel provides customized and tailored solutions for the software requirements of the automotive industry. Our innovative solutions helps an automotive company right from the network setup to the website development and management services and the data storage needs apart from the softwares developed as per their production chain system.
Education
Brand Cartel is actively involved in the development of software packages for various Universities and training sectors. With our unique cloud-based services, our charges are much more comprehensive and it provides flexibility for the schools/colleges as well.
Specifically for the educational institutions, we provide solutions dealing with admission procedure, fee management, employee administration, hostel management, training, reporting and the academic toolkits.
Financial Sector
We help businesses dealing in Finance and Insurance by providing a full suite of software solutions for their Inventory and accounting management. Additionally we help them in web portal management, Search engine optimization and increasing their online presence.
Our Financial Analytics solutions and Business Intelligence Softwares help our client monitor their business at large. We also provide an option of upgrading their existing softwares to the latest technology or move their entire systems to cloud computing thereby bringing down their operational costs quite considerably.
Government Sector
Details of the government projects done by us and our e-governance technologies are available on individual request only. Kindly contact us through our 'contact us' page.
Health Care
Healthcare is one of the most growing sectors with a wider scope of improvement with technological add-ons. We help this sector extensively by introducing Electronic Record Systems for Medical and Health facilities, Hospital Management Systems, websites for the healthcare systems (Doctors, Clinics, Hospitals, and Pharmaceuticals).
Brand Cartel provides cost-effective solutions for such healthcare requirements along with an entire suite of support services. Our Search Engine Optimization techniques and online marketing also helps this sector at large, especially the private businesses.
Hospitality
In Hospitality sector, we cater to most of the software requirements such as Hotel Management Software, Employee Management Software, Websites and Portal, Online Booking Solutions. Integrating the traditional hotel management methodologies, we provide our clients with the state-of-the art- technology to meet their needs.
Our Internet Booking System solutions and highly secure payment integration modules provides a robust system for our clients. Internet Marketing, Analytics Solutions and the SEO solutions supplement our client's IT requirements.
Logistics
Our Warehouse Management System serves as a one-stop solution for the Logistics and Supply Chain Management sector. Our warehouse management system let our clients to take the orders from various channels and complete the order processing on-the-fly along with the parallel processing of the billing.
Manufacturing
For manufacturing sector, we provide customized software solutions which comply with the global standards. For this sector, in particular, we provide the internationalization service which basically modifies your website as per the language of the region. This helps our client connect to their customers globally.
With round-the-clock support services, we ensure our client never loses out on their business. Our competitive support costs help our clients control their finances as well.
Media and Entertainment
Our state-of-the-art digital solutions deal with digital content creation for the media projects. Digital Content Management and Digital Content delivery systems provide an automated solution for our clients.
Media and Entertainment Industry gets a complete Brand management solution from the Brand Cartel as a packaged suite. We further ensure our clients an enhanced consumer loyalty and round-the-clock support services which eventually curtails their operational costs.